11 Sep 23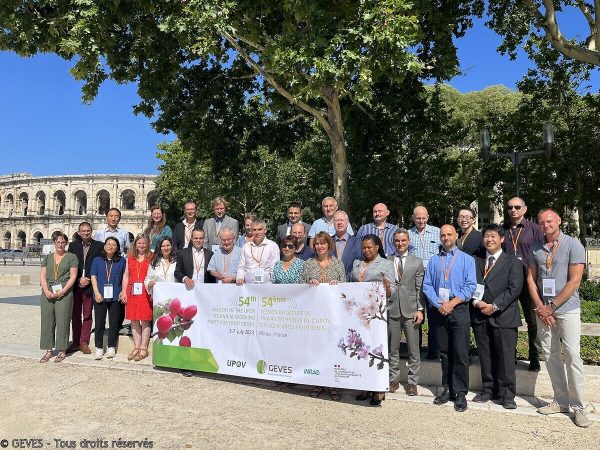 UPOV Technical Working Party for Fruit species invited by GEVES in Nîmes
After 3 virtual meetings, the UPOV Technical Working Party for Fruit species (TWF) met in Nîmes from 3 to 7 July 2023 invited by GEVES. The visio/face-to-face meeting format allowed 73 people from 28 UPOV members to participate, in addition with 2 observing organizations. In the meeting room were sitting 35 participants coming from 18 countries or organizations, leading the discussions.
As TWF was held in France, many french speakers were allowed to present national agriculture and fruit and nurseries activities. Laurent Jacquiau, chief at Office of seeds and alternative solutions, General Directorate for Food, Ministry of Agriculture and Food, started the session with a presentation of french agricultural production, especially for fruit products, and of the national listing and protection of varieties. Then Fabien Masson, head of Variety Study Department, showed the different activities of GEVES. And finally, Carole Dirwimmer and Arnaud Remay explained how DUS testing for fruit species is organized in France, and how the molecular techniques are used as a support tool to the field work.
Ten guidelines have been discussed this week : guidelines for Apple, Grapewine and Sweet cherry should be validated by UPOV Technical Committee this autumn, to be used on the field shortly.
The experts also worked on procedures and tools that should help examination offices to improve reference collection management and official descriptions exchanges between UPOV members, especially regarding apple varieties coming from mutation.
Finaly, and among many other presentations, David Karp from University of California and on behalf of CIOPORA, presented his huge work on gathering information on fruit varieties, old and modern, from all over the world.
All participants reached the outstanding site of Pont du Gard for the official dinner, where they were showed with History and food of Gard region.
On demand of UPOV, GEVES organized a full day of technical visit, mainly dedicated to DUS training. On INRAE DUS testing site « Amarine », where peach, apricot and japanese plums are examined, the participants were asked to sample, compare, describe (and taste !) fruits with the help of the french examiners Christophe Tuero and Eric Martin. This session, largely sounded by local typical cicadas, was really rich for discussions and exchanges and allowed everyone to practically use guidelines that are usually only discussed in a meeting room.
Fruit activities of INRAE were described by Jean-Marc Audergon and José Quero-Garcia, researchers.
Finally, this busy day ended up by a visit to Toulemonde nursery : we were warmly welcomed by Philippe Toulemonde and his team who told us how this family business was created. They were involved in the building of Starfruits® edition group, and in the development of Pink Lady®. Plant Breeders Right, obtained in UPOV system, is a pilar of the development of their business.
This week has been rich of exchanges and meetings for GEVES and INRAE experts. GEVES will chair the TWF for the next 3 years.