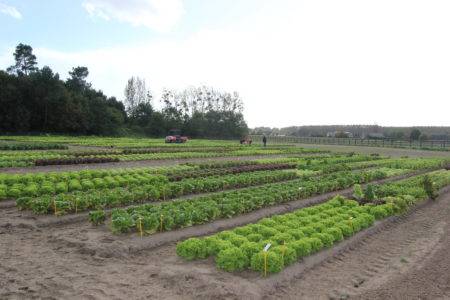 To qualify for registration on List a of the French Catalogue, a new variety must meet two conditions:
It must be recognised as Distinct, Uniform, and Stable (DUS) by undergoing official testing in accordance with EU regulations (Directive 2003/91/CE). DUS examinations are carried out to establish a variety's identity; they also form the basis for seed certification and plant variety rights.
It must be designated by an approved denomination in accordance with the applicable rules (Regulation CE no. 930/2000 of 4 May 2000).
Candidate varieties are studied over two DUS examination cycles, which can take one or two years. Trials are conducted at GEVES's experimentation stations, or at another EU examination office. The decision rules are set out in the technical regulations, established by the CTPS Vegetable Section and approved by the Ministry of Agriculture.
For registration on Lists a and b, it is also possible to obtain a Provisional Marketing Authorisation (PMA) once the application for registration has been accepted.
For seed propagated species, provisional marketing authorisation is granted in accordance with EU Directive 2004/842, and is valid throughout Europe.
For vegetatively propagated species (garlic, artichoke, asparagus, shallot, strawberry) listed in Directive 92/33 CE and not included in Directive 2002/55 CE, a national PMA is granted.
The technical regulations for the examinations of vegetable and strawberry varieties, for registration in the Official French Catalogue, are available under "Register a Variety". You can also find specific technical regulations, such as for artichoke, asparagus, shallot and strawberry.
The list of varieties with a Provisional Marketing Authorisation is available at the following link:
Register a variety in the French Catalogue