Resistance to pests and pathogens has always been a component of registration in the Catalogue, especially disease resistance for which there is a fairly wide genetic diversity. The consideration of resistance differs from species to species, depending on the impact of the diseases on the culture and the quality of the products, and whether there is a test for Agronomic Technological and Environmental Value.
For agricultural plants (field and forage crops), the variety's yield and use value of the product are evaluated, with a description of its behaviour with regards to the main diseases . This is part of the registration decision rules for many species (cereals, oilseed rape, beetroot ...). The registration of varieties with good behaviour is favoured, and very susceptible varieties are penalised or refused (these rules are specified in the technical regulations for registration). Yield tests also include disease behaviour: for cereals, yield information comes from both protected and unprotected disease tests; for sugar beet fungicidal protection is tested in comparison with varieties that are not susceptible to disease. As soon as the varieties are registered, all results are made available (documents are accessible by searching the name of the variety in the catalogue).
Variety resistance evaluation is mainly carried out in the field in multi-location trials, or with pathogens and pest resistance tests using artificial inoculation of predominant strains or breeds in France. In these tests, reference varieties covering a scale of susceptibility to the studied disease can describe the behaviour of varieties being studied. Biotests in the laboratory are also used.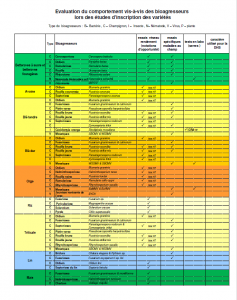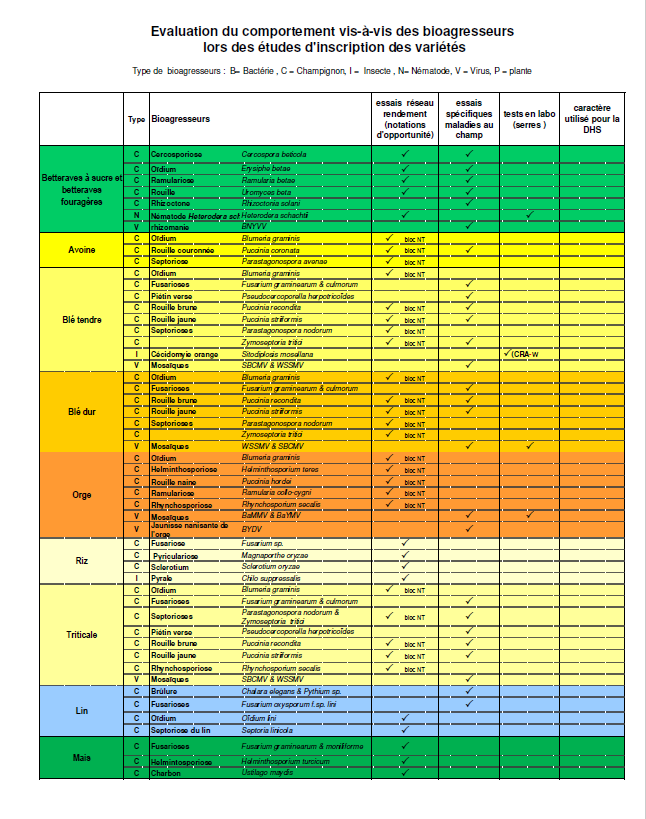 The table opposite lists the pests characterised during registration tests, mainly for VCU but also for DUS description.
41 field-specific resistance tests,
27 laboratory tests,
other studies are carried out by natural contamination in "yield" tests and depend on the pest or pathogen pressure for that year.
For vegetable plants, disease resistance is part of the phenotypic characteristics used to describe varieties (Distinctness Homogeneity and Stability studies). Current resistance is mostly qualitative, of the yes / no type, with a description for each pathogen race. This type of resistance, known as monogenic resistance, can be les durable. Currently, quantitative resistances are also used.
For vegetable plants, evaluation mainly consists of bio-tests, carried out in a controlled environment (greenhouse or climatic module), on young plants, with a response time after rapid inoculation (two to four weeks). Some types of resistance are evaluated in the field in contaminated conditions, such as Alternaria carrot.
For vegetable species: 50 host / pest pairs (viruses, bacteria, fungi, nematodes, aphids) and nearly 100 host / race / pest pairs (DUS) and thousands of official tests are carried out to evaluate the reference collection and new varieties.
GEVES has created a network with its research and seed partners to maintain and share these reference varieties (susceptible, resistant, intermediate resistant and differential host) and reference strains for resistance tests. The MATREF network provides this reference material.
Find out more about resistance in vegetable species to disease and pests
Weed pests

For the moment, variety behaviour with regard to weeds is not closely examined in registration testing. There is no "resistant" variety to weeds (there are varieties that are resistant to orobanche, a parasitic plant), but there are more competitive varieties which are taller, with more cover, wider leaves, more ramifications or tillers, with stronger starting vigour, etc.
Behaviour with regard to weeds is very important in organic farming, as weed control is one of the main limiting factors in organic agriculture. Organic farming looks for varieties that compete with weeds, as well as varieties that facilitate the passage of mechanical weeding tools.
In current registration tests, covering power is described for protein peas and for varieties of soft wheat classed as suitable for organic farming. Certain morphological traits used to describe varieties for DUS can be used to describing the architecture of the plant. For example, a soft wheat leaf can be upright or spreading. GEVES is working to better disseminate this information.