Testing conditions:
GEVES carries out testing at its experimental stations which are representative of different soil and climatic conditions. This way, we can adapt to changes in climate and different genera. These stations are close to the main ornamental production areas in France (Loire Valley, West of France, Mediterranean area) and work in collaboration with the sector and technical institutes.
Regulatory and scientific expertise:


Member of the French CTPS committee for medicinal, aromatic and ornamental plants
Strong scientific expertise in cooperation with INRA, GEVES's founding partner
Leading expert at the UPOV and the CPVO.

In vivo permanent reference collections for different genera: Hydrangea, Chrysanthemum, Lavandula, Lagerstroemia, Oleander, Buddleia, Berberis, Abelia, Weigelia, Pyracantha, Forsythia, Thyme, Mint…
Partnership building with city arboretums for the conservation of reference collections.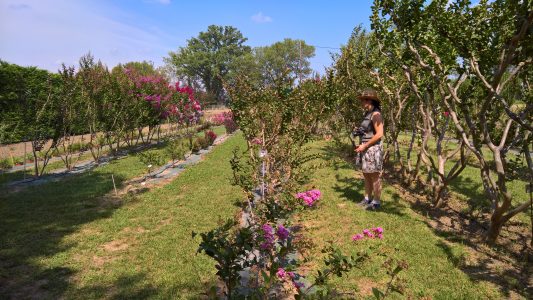 What is the purpose of providing material to a reference collection? 
To maintain an up-to-date reference collection, GEVES regularly asks professionals to provide a small number of plant varieties.
Including your varieties in the reference collection has dual benefits:
To guarantee the distinction of a candidate variety to well-known varieties, whether or not they are protected,
To support third-party cases of fraud or dispute.