GEVES makes its specialised expertise openly available to the seed and plant sectors, offering a variety of comprehensive and high-quality testing services.
GEVES carries out testing on varieties, seeds and propagating material at its SNES and BioGEVES laboratories. Its SEV teams conduct field trials and evaluations.
GEVES carries out its activities in support of public policy with regard to plant variety and seed legislation, as well as assisting seed sector professionals in their various activities. GEVES is continually working to develop and implement new tools and techniques such as constituent analysis, GMO and pathogen detection, varietal identity testing, and seed quality testing with regard to physiological quality and specific genetic purity.
You can search all our services in the price list on the right.
In addition, here is also the here the list of available pests
Test request except for Orange International Certificate (OIC)
Test request for Orange International Certificate (OIC)
To send your samples
GEVES – Service Clients SNES – 3 rue Henri Becquerel – CS 90024 – 49071 Beaucouzé Cedex 
Place an order at BioGEVES :
Formulate your requests by email to  biogeves.analyses@geves.fr
To send your samples to Detection pole 
BioGEVES – 3 rue Henri Becquerel – CS 90024 – 49071 Beaucouzé Cedex
To send your samples to Genotyping or Biochemistry pole
BioGEVES – Le Magneraud – CS 40052 – Saint-Pierre d'Amilly – 17700 Surgères
Formulate your field test requests by email to celine.delarue@geves.fr
To send your documents
GEVES – Service Clients SEV – 25 rue Georges Morel – CS 90024 – 49071 Beaucouzé Cedex
Unable to find the species or analysis you were looking for?
Looking for assistance with a specific issue (expertise, suspicion of counterfeit, methodological development…) ?
Contact us to put together a testing programme tailored to your technical requirements.
How are test results presented?
GEVES certificates and test reports
After the tests have been carried out by GEVES, a report is issued called an "Analysis Certificate". This certificate features the results for each test that was requested. Through its status as an official reference laboratory, GEVES's certificates are officially recognised, with the added value of COFRAC and/or ISTA accreditation depending on the analysis. When an analysis has been carried out under COFRAC accreditation, the certificate features the COFRAC logo and the scope of accreditation.
Accrédité ISTA, le GEVES (et en particulier la SNES) peut délivrer des bulletins ISTA.
Ces bulletins sont de 2 types : le bulletin international Orange (BIO) et le bulletin international Bleu (BIB).
Les résultats des analyses demandées par le client (ou requérant) et réalisées sous accréditation ISTA sont reportés sur 2 types de formulaire.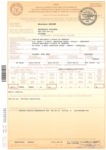 Orange International Certificates, which are recognised internationally by many different countries, provide information on the quality of seed lots. The form, provided by ISTA, is orange (hence the name). As the sample used for testing is produced in a strict and controlled environment, it is therefore considered that test results represent the quality of the entire seed lot.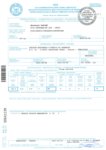 Blue International Certificates, also recognised in numerous different countries, provide information on the quality of the seed sample only.
The fundamental difference between the OIC and BIC is the origin of the sample. If the sample has been taken in an ISTA-accredited environment, an OIC may be issued. If not, only a BIC may be issued.
As an ISTA-accredited laboratory, the SNES ensures that samples taken using automatic samplers are valid. This validation guarantees that seed lots are sampled according to ISTA rules and therefore allows for an OIC to be issued for those seed samples. 
How can I access my results?
The certificates or test reports are sent by postal mail or by email. GEVES also provides the option of accessing your results online.
ISTA certificates are sent by postal mail. ISTA is currently developing an electronic certificate system.
Tools & equipment to meet your professional needs
GEVES also has tools and equipment which are available to researchers and seed sector professionals for research projects in collaboration with GEVES, or for company-specific research programs.