How are test results presented?
GEVES certificates and test reports
After the tests have been carried out by GEVES, a report is issued called an "Analysis Certificate". This certificate features the results for each test that was requested. Through its status as an official reference laboratory, GEVES's certificates are officially recognised, with the added value of COFRAC and/or ISTA accreditation depending on the analysis.
When an analysis has been carried out under COFRAC accreditation, the certificate features the COFRAC logo and the scope of accreditation.
GEVES and its SNES laboratory are ISTA accredited, and able to issue ISTA certificates. There are two types of ISTA certificates: Orange International Certificates (OIC) and Blue International Certificates (BIC).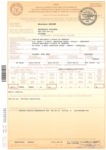 Orange International Certificates, which are recognised internationally by many different countries, provide information on the quality of seed lots. The form, provided by ISTA, is orange (hence the name). As the sample used for testing is produced in a strict and controlled environment, it is therefore considered that test results represent the quality of the entire seed lot.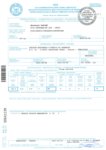 Blue International Certificates, also recognised in numerous different countries, provide information on the quality of the seed sample only.
The fundamental difference between the OIC and BIC is the origin of the sample. If the sample has been taken in an ISTA-accredited environment, an OIC may be issued. If not, only a BIC may be issued.
As an ISTA-accredited laboratory, the SNES ensures that samples taken using automatic samplers are valid. This validation guarantees that seed lots are sampled according to ISTA rules and therefore allows for an OIC to be issued for those seed samples.
How can I access my results?
The certificates or test reports are sent by postal mail or by email. GEVES also provides the option of accessing your results online.
ISTA certificates are sent by postal mail. ISTA is currently developing an electronic certificate system.