28 Jun 19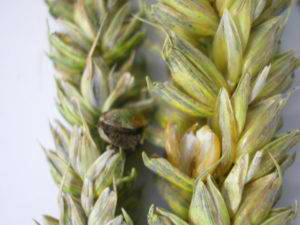 Common bunt test and perspectives
Carie ABBLE project : Development of an early resistance test for common bunt and better knowledge of virulences in France.
Common bunt is a re-emerging, seed-transmissible disease that affects the organic cereal industry in particular. The objective of this project was to obtain a rapid common bunt resistance test for organic varieties of soft wheat, which is reliable with respect to predominant virulences in France. In particular this test is needed for registering organic soft wheat varieties in the French Catalogue. 
 
Results of the Carie ABBLE project:
Better understanding of the variability of species and races of c

ommon bunt

in France, demonstrating the predominance of

T

.caries

and

virulences

Bt7, Bt2 and Bt15

.

 

Development of a common laboratory

bunt

resistance test at the 2-3 leaf stage with biotest followed by qPCR (7-8 weeks), earlier than the adult field test (8 months) and avoiding the spread of decay spores in the field.

 
This project will soon propose to the CTPS a common bunt resistance test protocol applicable for the registration of common wheat varieties registered as organic. GEVES will also offer this service to breeders to evaluate their varieties whether they are bred for conventional or organic farming. 
 
By giving plant breeding this new early and operational test, varietal resistance will take a key place in the fight against common bunt.  It will allow selection of resistant varieties as alternatives to chemical seed treatments, or in combination with alternative treatments.