30 Aug 21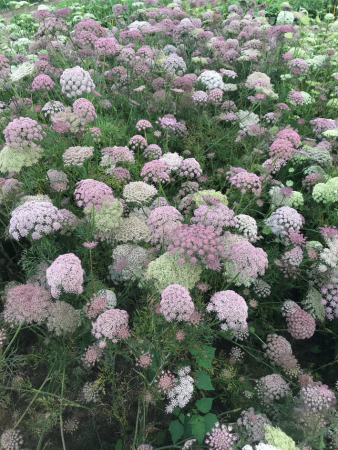 The national collection of plant genetic resources is growing! 
Photo: Flowers of cultivated carrot  
Accessions of potato, hydrangea and crop wild relatives collected in situ in France have been added to the national collection.  
209 Hydrangea accessions were donated by the company Boos Hortensia based in Sainte Gemmes sur Loire. This collection contains mainly Hydrangea macrophylla from Europe and Asia, but also a diversity in the Hydrangea genus with 13 subspecies represented from Europe, Japan and the United States. 
The public-private cooperation network for potatoes, led by INRAe in Ploudaniel, has also added 17 French varieties to the national collection, which completes the 97 varieties already added to the multilateral system of the International Treaty (ITPGRFA). In addition to passport data, the network also provided description data on tuber shape, skin colour and maturity, for example.  
Finally, the Conservatoire botanique national de Bailleul also contributed with 34 accessions of 11 crop wild related species, including wild forms of carrot, but also relatives of cabbage, garlic, flax or even bellflower and angelica. 
The list of resources added in the national collection was published in the Official Journal on 31 July 2021. 
These resources will soon be integrated into the European database EURISCO, which already contains the resources previously included in the French national collection.