5 Apr 22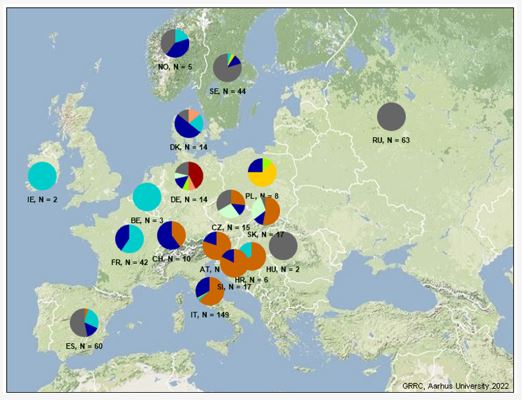 Study on variety resistance to black rust and its prevalent races in the EU
Black stem rust is a very old disease caused by the fungus Puccinia graminis. An early attack can cause considerable yield loss. In France, in 2021, several cases of black rust were reported late in common wheat across different regions. In order to monitor this disease to anticipate the risks of epidemics in the future, GEVES is developing actions to follow on from previous studies conducted under the H2020 Rustwatch project.  
In 2021-2022, GEVES supervised two Master 2 students from the University of Angers, Plant Health Management course, in the framework of a commissioned project on the evaluation of varietal resistance to black rust in cereal crops. The aim of this study was to actively monitor the implementation of a black rust resistance evaluation protocol for national listing.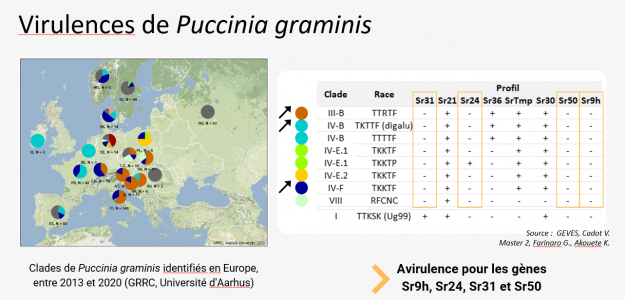 2 main actions were carried out:   
 1) A bibliographical study on the pathogen, the evolution of races and genetic groups at EU and international levels, a summary of the sources of resistance, the efficient resistance genes, with regard to prevalent races and clades in the EU, and a summary of available markers, as well as the list of the most commonly used resistance genes in European wheats  
  2) A survey of national listing examination offices in Europe regarding protocols for evaluating variety resistance, the regulations in place for listing varieties, and the possibility of complementary testing between examination offices. 
Find out more about the previous results of the H2020 Rustwatch project (Newsletter November 2021)