6 Mar 18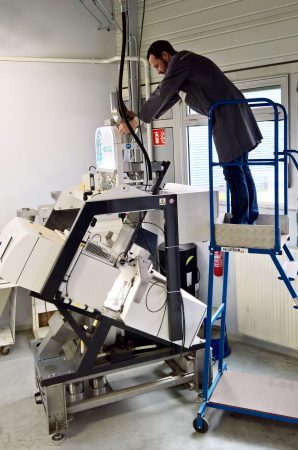 Micro-cleaning: helping you define your seed sorting process
Seed micro-cleaning involves determining the percentage of waste in raw, harvested seed lots. This percentage is obtained by using sorting machines that are developed for all seed shapes. The SNES performs micro-cleaning using specialised equipment, which consists of smaller replicas of industrial machines.
This operation produces an optimal sorting diagram for each seed lot, and is an essential preliminary step for defining the industrial process. It guarantees quality factory sorting, regardless of the species. Once a lot has been approved, its commercial value is estimated based on the precise knowledge of its quality.
What is micro-cleaning?
Every species of seed has a different set of morphological characteristics: length, width, thickness, weight, colour, etc. These characteristics can vary depending on the variety, the seed lot, or the year.
Each morphological characteristic is associated with a sorting device with various settings (grid size, indent size, ventilation intensity…) which must be adjusted as precisely as possible. A cleaner-separator sorts the grains according to width (the diameter) and vacuums the light debris. Indented cylinder separators are used for separating the grains according to length. The seed gravity table separates the grains according to aerodynamic criteria, using vibration and air lifting. And lastly, the optical sorter separates grains and impurities according to grain colour and shape.
The complete sorting process takes place on a sorting line composed of several devices for the different criteria.
Micro-cleaning at the National Seed Testing Station (SNES): equipment and expertise
In order to meet the required seed quality standards, it is essential for operators to have the necessary expertise, experience and knowledge of seed characteristics.
The SNES Physical Analysis Laboratory is equipped with twenty sorting devices for cleaning all types of seed. Our expert teams work with the highest precision, producing quality sorting to the same standard as seed cleaning plants.
To meet emerging client needs, such as for quinoa or new flower species, the SNES is developing its range of sorting machines and the associated technical competencies of its teams.
Our optical sorter further improves sorting accuracy, and removes weed seed which up to now has been difficult to sort using conventional methods. It is routinely used for the final stage of sorting or in the context of research projects.
Following these different sorting operations, specific purity testing and germinative capacity testing can be performed at the SNES to fully ensure the quality of the seed lot.