26 Jan 21
BRASEXPLOR : Genetic diversity in Meditteranean brassic vegetables for sustaining crop production.
This European funded project has started on September 2020 for three years. It is a consortium joining 12 partners from 7 countries and is led by INRAE- IGEPP in Rennes (https://www6.inrae.fr/brasexplor).
BRASEXPLOR aims to identify the genetic determinism of adaptation to climatic variations by exploring genetic diversity of cabbage and turnip, which are two native species from Mediterranean area, present as wild populations and local landraces from the North of France to the sub-Saharan regions. Their crosses gave rise to oilseed rape 7 500 years ago, the third worldwide oil crop. Brassica rapa and Brassica oleracea are vegetables with a large rank of leafy or root morphotypes and represent a great part of the human core nutrition all around the world (Fig.2).
The international partnership plans to collect and multiply wild populations extending from the North Atlantic coast to the southern Algerian desert as well as local varieties from the contributing countries in order to characterize the genetic diversity available over a wide soil-climate gradient.
GEVES will contribute to the germination and early seedling growth phenotyping in favorable conditions or with thermal and hydric stress for quantifying the adaptation of populations to climate change. Around one hundred populations per species collected by the different partners and multiplied by UMR IGEPP in the same conditions will be studied.  

Figure 1 : Kick-off online meeting in September 9-10th. The first connected partners from France, Spain and Slovenia got acquainted (sometimes against the light!) while waiting for the Italian and Algerian colleagues. Unfortunately, the Tunisian and Egyptian partners were not connected.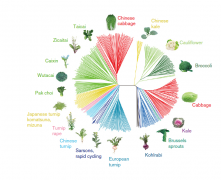 Figure 2 : Phylogenetic tree of Brassica rapa (on the left) and Brassica oleracea (on the right) showing the morphological diversity of the corresponding vegetables (source: Cheng et al., Nature Genetics, 2016)