2 Feb 23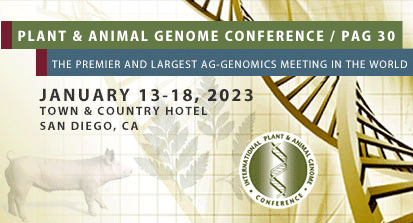 30th Plant and Animal Genome Conference
 3000 participants from more than 60 countries met from 13-18 January at the 30th Plant and Animal Genome Congress in San Diego.
Two representatives from BioGEVES were present to learn about the latest scientific and technological advances in plant genetics and genomics and to present two posters on the CPVO  Hydrangea project and the characterisation of the reference collections of fruit trees carried out by GEVES.
Many presentations focused on the characterisation of genes linked to traits of interest in genome-wide association studies. These can then be introduced into marker-assisted breeding programmes.
The targeted traits are mainly yield, disease resistance and adaptation to climate change. The massive sequencing of genomes and their accessibility also offer GEVES the possibility of developing numerous markers to optimise DUS studies and propose control tools to the industry.