1 Oct 20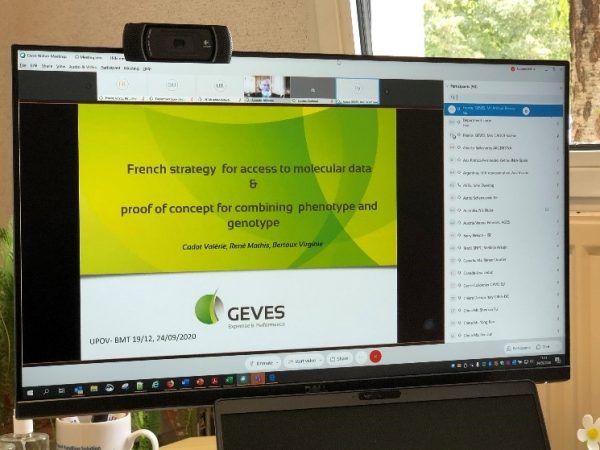 UPOV BMT Working Group on Biochemical and Molecular Techniques: 23-25 September 2020
A hundred participants, representing forty countries and organisations, met on 23-25 September for the 19th BMT (Working Group on Biochemical and Molecular Techniques and DNA-Profiling in Particular) by videoconference.
The programme for this session included:
two presentations by France:

on the progress of the CPVO SNP Rapeseed project with the objective of developing a strategy for the use of SNP molecular markers in DUS* Rapeseed

testing

presentation of the CAPGENOPHEN project, the aim of which is to experiment with the integration of molecular marking data for resistance genes in addition to phenotyping in the VCUS** testing process for new cereal varieties. These results applied to VCUS were presented to study their feasibility for DUS, and to complete UPOV model 1, "trait linked to a specific gene", which only recommends replacing phenotyping by marking.

 

continued work on the development of the framework document UPOV/INF/17 "Guidelines for DNA profiling: selection of molecular markers and construction of a database".

 

discussions on the accessibility and use of molecular data from DUS examinations.

 
*DUS: Distinctness Uniformity Stability
**VCUS: Value for Cultivation, Use, and Sustainability
For more information, you can find all the documentation for this meeting at https://www.upov.int/meetings/fr/details.jsp?meeting_id=55674.