3 Jul 18
Tribute to Joel GUIARD
We would like to pay tribute to Joël Guiard who passed away on June 23th, 2018.
Joël Guiard spent his entire career at GEVES, where he arrived in 1976 as Head of DUS Maize at the Minière Unit. He went on to become Head of DUS for different species, and in 1982 he became Director of the "Study of  Agricultural Plant Varieties" Unit. From 1992 – 2011 he held the position of Director of the Variety Study Department (SEV).
From 1992-2009, Joël was the General Secretary of the CTPS (Permanent Technical Committee for Plant Breeding). He was then in charge of international relations at GEVES. From 2004-2011, he was Deputy Director of GEVES and served as Director of GEVES from June 2008 to March 2009.
During his career, Joël received the medal of "Chevalier dans l'ordre national du Mérite" and he was made Knight of the Order of Agricultural Merit. He retired in May 2013.
With his passion for plants and varieties, Joël was an example for all of us. A visionary and leader in his field, he was a national and international reference. His involvement and courage were matched only by his commitment and loyalty to INRA, CTPS and GEVES. Human and caring, Joël will remain present in our memories.
Message from UPOV: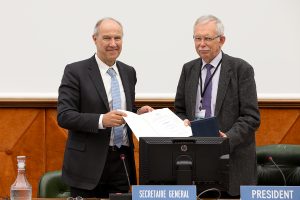 Mr. Joël Guiard was awarded a UPOV Gold Medal on completing his term as Chairman of the Technical Committee (TC) at its 49th session, held in Geneva on 18-20 March, 2013. Mr. Guiard, who retired from his position in GEVES in 2013, was awarded a Gold Medal on the basis of his outstanding contribution to plant variety protection, which included the following notable contributions:
Chairman of the Working Group on Article 1 "Definitions" at the Diplomatic Conference in March 1991
Member of the UPOV Editorial Committee (31 years)
Twice Chairman of the Technical Committee (1996-1998 & 2011-2013)
Chairman of the Technical Working Party for Agricultural Crops (1985-1987)
Twice Chairman of the Working Group on Biochemical and Molecular Techniques, and DNA-Profiling
in Particular (1994-1998)
Leading Expert for a number of important Test Guidelines
Mr. Guiard's contribution extended beyond his direct participation in UPOV bodies. In his role as Deputy Directeur at GEVES, Mr. Guiard made a unique contribution to the progress of UPOV's technical work. Contributions from GEVES include:
Software which is made freely available to all members of the Union:
GAIA – for the management of reference collections
SIRIUS – for hand-held data capture in DUS trials
GEVES provided the examples for the models approved by UPOV for the use of biochemical and molecular markers in the examination of DUS. Those models/examples were the basis for document TGP/15 "Guidance on the Use of Biochemical and Molecular Markers in the Examination of Distinctness, Uniformity and Stability", which was adopted in October 2013.
Mr. Guiard also provided support, personally and through GEVES, for a multitude of UPOV activities during his time at GEVES. His knowledge, intelligence and personality made him a focal point for new and old experts alike.
Joël will be sorely missed by delegates and friends in the UPOV world.