16 Aug 23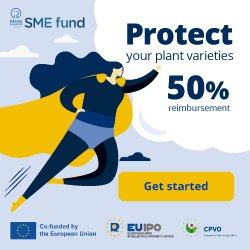 SME Fund 2023: financial support for community plant variety right
The SME Fund is a European Commission initiative implemented by the European Union Intellectual Property Office (EUIPO) and runs until 8 December 2023. This fund provides vouchers for intellectual property protection to small and medium-sized enterprises within the EU.
For the first time, the SME Fund also helps SMEs to apply for protection with the Community Plant Variety Office, with the aim of stimulating innovation, development, and investment in this sector. 
SMEs can get a 225 euros voucher for an online application for a Community Plant Variety Right.
To learn more about the mechanism, watch short videos in different languages on this webpage: CPVO YouTube Channel – YouTube
On September 19, 2023 at 2 pm, the CPVO will be holding a question-and-answer web seminar entirely in French. If you would like to know more about the SME Fund, you can contact the dedicated email address, and possibly reserve your place for the webinar at: smefund@cpvo.europa.eu
The EUIPO website dedicated to the fund is available in French with a FAQ section help-sme-fund-2022 (europa.eu) , and the portal for submitting the check request is available at Log in | SME Fund 2023 (europa.eu)