18 Nov 19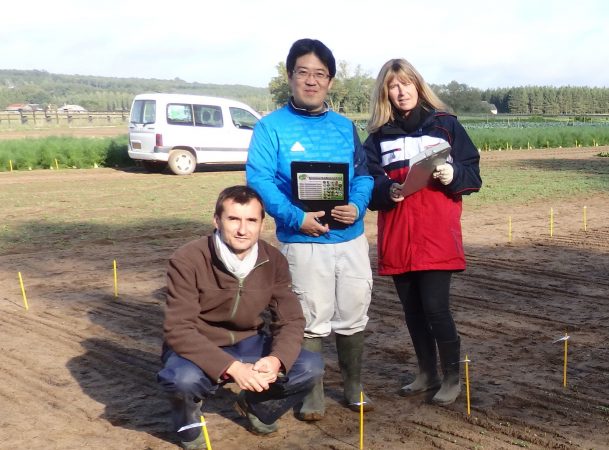 Seed germination and vigour testing for 5 vegetable crops
An international 2-year project involving Japan and France 
The VIGERM project is funded by ISTA and involves 3 technical committees: VIGour GERmination,  and Advanced Technologies Committees. It has begun with hosting Takashi Shinohara, an associate professor-researcher from Tokyo University of Agriculture, in the germination laboratory of the French Seed Testing Station at GEVES. 57 samples of Brassica species (3 varieties per species and 2-4 seed lots for cabbage, cauliflower, mustard, Chinese cabbage and radish) have been evaluated for their seed moisture content, TSW, standard germination and controlled deterioration as this is the only vigour test available in ISTA Rules (ISTA, 2019). 
Germination time courses and conductivity will be also carried out as well as a vigour assessment of seed lots in real use conditions: direct sowing in field or greenhouse plugs trial. The aim is to develop rapid and potentially automated tests based on image analysis for prediction of germination and vigour of Brassica species. A collaboration with Birte Boelt from the University of Aarhus (Denmark) will explore the potential of multispectral imaging to evaluate germination through a Master training period. 
The project is chaired by Sylvie Ducournau (GEVES) and Alison Powell (University of Aberdeen).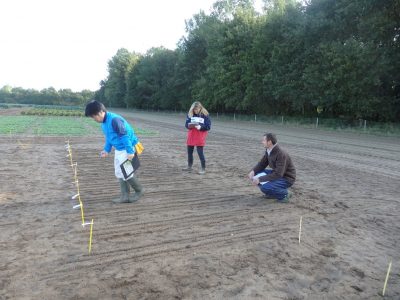 Photo: Vigour assessment in field trial sownon 4 October at GEVES Brion. Field emergence count after 7 days (from left to right: Takashi Shinohara, Stéphanie Bernard and Dominique Rousseau)