25 May 23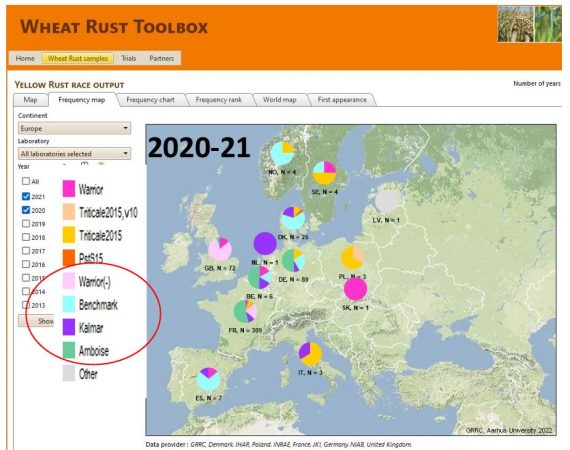 Monitoring of cereal rust races in Europe continues
The EU H2020 project RustWatch aims to develop a new European early warning and control system for yellow, brown and black rusts of wheat, through a multi-stakeholder and multi-network approach. This project ended in September 2022, however its breed identification actions have continued in 2023 as well as the updating of this information on the GRRC website in Denmark.  GEVES remains in charge of monitoring yellow rust races in the European VCU network, by establishing a differential host range. This network plays an important role in estimating the severity of attacks via visual ratings and in identifying new races via isolates collected and tested in laboratories.
The continuation of the work in 2023 of the RustWatch project has led to the following progress:
– For yellow rust, an alignment of European laboratory methodologies has enabled a harmonisation of denominations, in particular for 4 variants of Warrior (-) renamed as races: Warrior(-), Kalmar/Nemo, Benchmark and Amboise.
– For brown rust, two genetic families prevalent in France (Fam 166 and 106 314 2) are also found in the majority cases in Europe.
– Spreading of black rust as well as a diversification of races and clades were highlighted in the EU, notably in 2021 in France: Clades IV F (TKKTF race) and IV B (mainly TKTTF race).
GEVES presented these results at the last CIMA/Vegephyl congress in December 2022. In order to better evaluate the new black rust resistant varieties with respect to predominant races, GEVES has participated in setting up 2 research projects, one in France led by INRAE, and one European led by Ireland. We hope they will be accepted.