27 Jun 18

GEVES joins Biocontrol Consortium!
GEVES, in the quality of affiliate of INRA,  has joined the Biocontrol Consortium, a public-private Research – Development – Innovation consortium which aims to foster biocontrol innovation and develop the activities of the French biocontrol industry in France. So far, the consortium has brought together 49 public and private members.  
In collaboration with the INRA of Angers, GEVES contributes its expertise on seeds and assists in the development of methods for evaluating the efficiency and phytotoxicity of new biocontrol solutions. 
Know more on the expertise of GEVES in biostimulation and biocontrol  
GEVES expertise in biocontrol and biostimulation 
Managing crop establishment and protecting them from aggressive bio-agents are major issues for the seed chain. To meet objectives for reducing agricultural inputs, as encouraged notably in the Ecophyto plan, biocontrol and biostimulation solutions are being developed. With extensive expertise in evaluating seed and plant quality, GEVES participates in research programs to develop methodology for assessing plant or bio stimulant protection products. Tests are carried out under controlled conditions by technicians and engineers specialised in seed and plant analysis. The tools that have been developed can then be used for private services in support of companies within the sector. GEVES is a Research Tax Credit–approved organisation: expenditures relating to eligible R&D operations assigned to GEVES can be claimed for double their amount in a company's Research Tax Credit expenditure.  
Evaluating the efficiency of plant protection products  
Biocontrol products are natural substances, consisting of macro-organisms or microorganisms which focus directly or indirectly on the pathogenic agent by inducing plant defence responses to biotic stress or by modifying the microbiota in favour of the plant. 
Through its activities of collection management for evaluating varietal resistance and seed health, the Pathology laboratory of the National Seed Tasting Station (SNES) can develop tests allowing them to be sure on the disease development to evaluate different types of protecting solutions for controlled plants.  
The laboratory is also accredited for the manipulation of quarantine viruses. The laboratory's activities focus on more than 150 host/race couples of aggressive bio-agents with more than 2500 strain series. Each pathotest is adapted to the application of the evaluated product, its formulation and its effect (preventive or curative) on the targeted disease. New pathosystems can also be developed in response to specific requests. Trials are carried out using artificial contaminations to control the contamination level and obtain homogeneous bundles of contaminated seeds. For this, the laboratory is competent in the production of inoculum required for disease development under different forms which are on seeds, plants or in a liquid environment or Petri dish.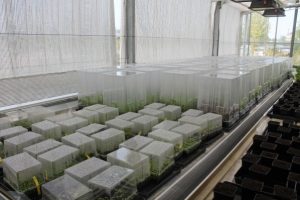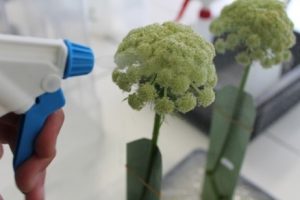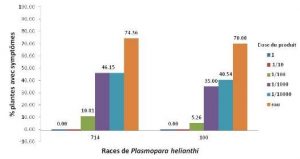 Evaluate efficiency of bio stimulant products 
Bio stimulants are natural substances or microorganisms aimed at plants or soil, used to facilitate the growth, development and nutrition of plants. The germination laboratory (SNES) develops methods to evaluate the stimulating effect of those products on germination and young plant development. Phenotyping and innovating image analysis tools are used to generate qualitative and quantitative dynamic measurements for each seeding. Each trial can be adapted according to the formulation, the method of application of the product and the desired result. These trials can also be carried out under optimal or disadvantageous conditions for the plant.