6 Jul 21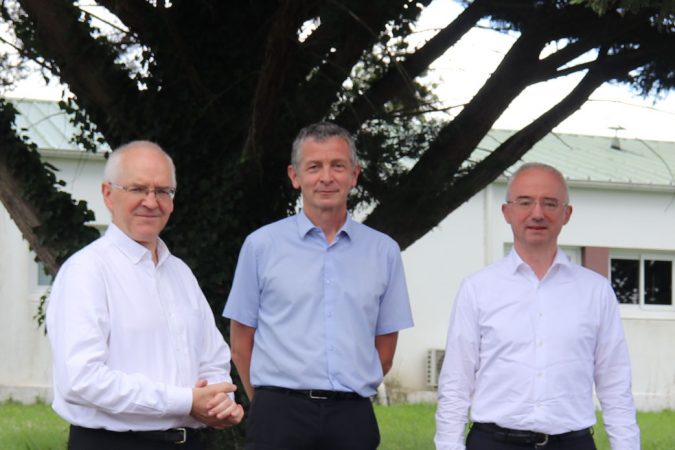 Change of President at GEVES: Patrick Flammarion succeeds Christian Huyghe
Photo: from left to right: Christian Huyghe, Alain Tridon, Patrick Flammarion
On 6 July 2021, the GEVES Board of Directors voted to appoint Patrick Flammarion as the new GEVES President. He succeeds Christian Huyghe, who has chaired the GEVES since 2010, giving it the benefit of his strong commitment and great skills. We would like to thank them both very warmly.
Introductory words from Patrick Flammarion
"Currently Director General for Expertise and Public Policy Support at INRAE (National Research Institute for Agriculture, Food and the Environment), I have alternated between professional experience in research (in the fields of water and ecotoxicological risks), expertise and environmental public policies.
I am very honoured to be appointed Chairman of the GEVES Board of Directors! I have a lot of admiration for my predecessors. I did not know GEVES very well two years ago, but I am already beginning to appreciate the great extent of its expertise, which is conducted with enthusiasm by all its staff, with a real synergy between R&D, innovation and support for public policies, both in its missions and the concrete reality of its projects, experiments and actions.
The course set by GEVES Ambition 2030 provides an excellent framework for the future, with ambitious and pragmatic guidelines. In particular, I note that Ambition 2030 will enable GEVES to remain innovative and proactive in order to anticipate and adapt its evaluation and analysis capacities. Furthermore, the involvement and driving role of the GEVES at EU and international level will be consolidated and developed."
Farewell message from Christian Huyghe
"I have had the honour of chairing the GEVES Administrative Board of Directors for 10 and a half years now, and I am now preparing to leave it, because all good things must come to an end. It has indeed been a real honour to work with all of you, contributing to a major player in the economic and environmental performance of French agriculture and the seed industry, in which France is a global leader. The conditions created by the combination of environments and climates, skills of its staff, and organisations and public policies embodied by GEVES are essential to this success.
Through my chairmanship, my participation within the CTPS, and the coordination of the AKER project, I have had the chance to meet many of you in your various positions and responsibilities. Each time I have been struck by the depth of your skills and your outstanding expertise in a field that is at once specialised, largely unknown and yet often controversial. And I would like to express my most sincere thanks to you once again.
I have been lucky enough to work with three managing directors and I thank them for their commitment and the quality of our exchanges. The GEVES strategic plan for the next 10 years carries a true vision and ambition to meet the challenges ahead, to ensure the major role of GEVES in Europe and across the world, and to overcome the uncertainties that will inevitably arise.
As I pass on the torch to Patrick Flammarion, I know that he will, with each of you and with the GEVES management team, carry the ambition of this project and ensure its implementation.
I hope to have the pleasure of seeing you soon, in Anjou or elsewhere."