6 Sep 22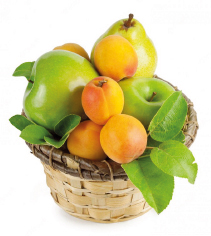 Apples, pears…
Breeders and publishers of fruit varieties propose new varieties every year in order to offer consumers and producers a large choice of fruits (color, acidity, juiciness or agronomic characteristics of interest for example).
It may be necessary to verify the varietal identity of the trees or fruits produced in the framework of production controls, to protect the consumer or to enforce the rights of the breeders. For this purpose, GEVES provides the sector with its expertise and its capacity for molecular biology analysis.
Each year, the BioGEVES laboratory describes all the fruit varieties studied in the field thanks to molecular marking and thus has reference collections of apple, apricot, cherry, peach, pear and Japanese plum varieties; that is to say nearly 2500 varieties.
In addition to these regulatory studies, the laboratory works on species such as walnut, quince, European plum, kiwi and hazelnut for example.
By analyzing a leaf or fruit sample, it is possible to verify the identity of a variety or to make a comparison with the whole targeted collection. These analyses are carried out within 10 days of receipt of the sample.
For more information: biogeves.analyses@geves.fr