18 Nov 19

An epidemiological monitoring platform in Europe for cereal rusts
The European H2020 Rustwatch project began on 1 May 2018 for a period of 4 years. Its objective is to develop an epidemio-surveillance system for the early monitoring of rust in cereals, based on a multi-network approach and sharing of communication infrastructures to ensure better control of rust breeds in Europe.   
For the past three years, GEVES has been managing the European VCU network to collect information on yellow, brown and black rust pressures in Europe and to identify early yellow rust breeds and new virulences, using a harmonised differential host range implemented in untreated VCU trials. This involved 48 sites in 12 countries in 2017, 63 sites in 17 countries in 2018 and since 2019, 83 sites in 17 countries in 2019, and a forecast in 2020 of 78 sites in 21 countries. 
Range of differential hosts planted in the field to identify new yellow rust virulences 

A protocol has been harmonised at EU level to define the experimental design, the rating scale for rust symptoms, and the rating stages.   
In 2019, the Wheat Rust Toolbox database was created with the collaboration of Aarhus University in Denmark to collect visual notations, and produce European maps of virulence, rust pressures and races. All quality-controlled data will be made public, incorporating VCU data with other data, through maps and graphs in RustTracker and on the Global Rust Reference Center (GRRC) website.  
http://agro.au.dk/forskning/internationale-platforme/wheatrust/ 
https://rusttracker.cimmyt.org/ 
The SSR analyses

carried

out in 2018 and 2019 by the GRRC

confirm

the

prevalence

of the Warrior – (Pst 10)

yellow

rust

race in the EU VCU network (>50%),

with

the

following

virulences:

1,2,3,4,-,6,7,-,9,-,-,17,-,25,-,32,Sp,AvS,-.

 

Pathotyping

tests

by INRA

BIOGER have

highlighted

the

appearance

of a Warrior-AV17 variant (

avirulent

on the Yr17

resistance

gene

)

in France

since

2017

. This variant

is

probably

responsible

for the

circumvention

observed

in Nemo in France and

Belgium

. The 2 Warrior

forms

– virulent 17 and

avirulent

17

were

found

in comparable proportions in VCU trials in France in 2018. To identify the presence of Warrior-AV17 at EU

level

, the Nemo

variety

has been

added

to the

differential

host range for 2020

for

all 21 countries.  

 

The Warrior

breed

(Pst 7)

nevertheless

remains

widely

present

in France and Europe.  

 

The Triticale 2015 breed (Pst 13)

is

particularly

predominant

in

Italy

and Spain and

is

present

to a

lesser

extent

in France (INRA

results

),

Belgium

and

Denmark

.  

 

A new Pst 14

breed

has been

detected

in Spain,

Latvia

and

Denmark

.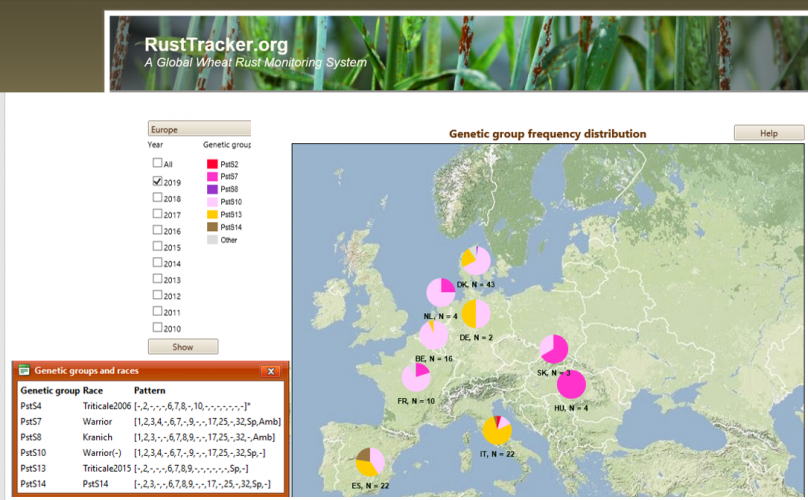 In this project led by the University of Aarhus in Denmark, it will be important to harmonise the naming of new breeds at EU level.
The reemergence in recent years of black rust in EU countries (Eastern Europe, Sicily, Germany, Spain, …), with several breeds identified by the GRRC, requires vigilance in France regarding its occurrence, and the breeding of resistant varieties.