The members of this Section are all involved in the conservation, characterisation, and promotion of plant genetic resources. They work with a range of different species, with the exception of forest trees, thereby representing the diversity of cultivated crops.
Members are nominated for their expertise, and appointed by the French Ministry of Agriculture for a period of five years.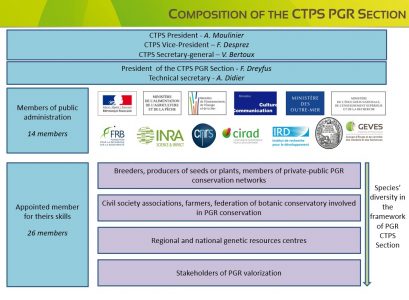 Representing plant breeders, seed producers, and plant genetic resources conservation networks:
M. Jean BEIGBEDER, Mme Isabelle CLEMENT-NISSOU, Mme Christiane DUCHENE, Mme Elina GRILLET, Mme Frédérique AUROUSSEAU, M. Frank TARDIEU, M. Olivier YOBREGAT.
Representing stakeholders involved in associations for the conservation of plant genetic resources:
Mme Yvette DATTEE, M. François DELMOND, M. Johan GOURVIL, Mme Agnès LE MEN, Mme Françoise LENOBLE-PREDINE, Mme Martine MITTEAU.
Representing regional conservatories and public organisations with plant genetic resources conservation activities:
Mme Marine DELMAS, M. Pascal COQUIN, M. Roland COTTIN, M. Stéphane CROZAT, Mme Evelyne LETERME, M. Michel MARCHYLLIE, M. Jean-Louis PHAM.
Representing stakeholders involved in promoting plant genetic resources:
M. Denis CHEVROLLIER, M. Philippe DOUMENC, Mme France DRUGMANT, M. Xavier PINOCHET, M. Bernard VALLUIS.