30 May 23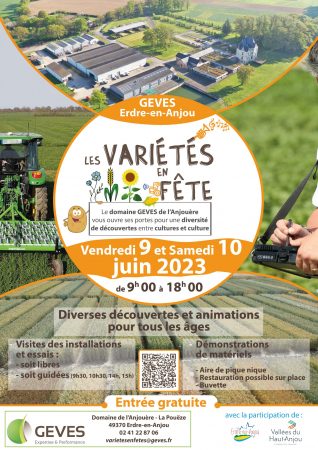 Open Days: GEVES Anjouère Station
Curious to know more about GEVES's activities? On Friday 9 and Saturday 10 June 2023, the GEVES station at l'Anjouère will be opening its doors to present its missions! Come and browse the various stands around and in the château, watch demonstrations and visit our field trials! You can discover:
– Activities to help you understand plant varieties: from farm to fork
– Discover the diversity of species and varieties, and what we call plant genetic resources
– Stand presenting GEVES's missions
– Seed recognition game (Are you a TOP SEED?)
– Mini escape game on apple variety breeding
– Discover jobs in the plant and seed sector, in particular at GEVES
– Photo exhibition
– Demonstrations of trial sowing, new technologies for weed control, image analysis, etc.
– ATLAS of biodiversity, photos of the region and cultural news (presented by the town of Erdre en Anjou)
– Guided tours of field trials
And much more! Visitors will be able to find out more about the public-sector expertise involved in cultivating, observing, measuring and evaluating new varieties of agricultural species in the interests of farming, biodiversity and sustainable transition in the context of climate change.