19 Mar 19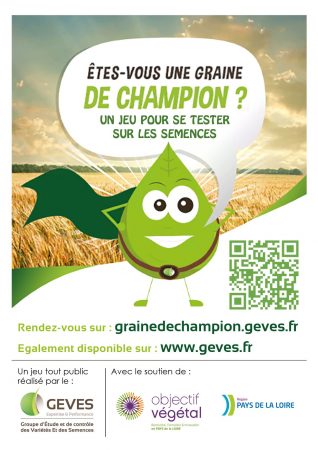 "Are you a top SEED?" game available online!
GEVES has created an all-new game based around photos of seeds from the I.D.SEED tool. I.D.SEED was developed by the physical analysis laboratory of the GEVES National Seed Testing Station and contains more than 1000 photos with descriptive sheets, primarily for use by seed professionals. This game will be gradually expanded to include the many species already available in I.D.SEED. Whether expert or novice, adult or younger, you can explore the diversity of seed shapes and sizes and find out more about plant species. Currently only available in French, an English version will soon be made available.
The Pays de la Loire Region has provided financial support for the creation of this digital game, highlighting its pedagogical and scientific qualities. It was presented and tested, with great reception, at the 2019 SIVAL trade fair in Angers and at the INRA stand at International Agricultural Show in Paris.
Try it out now (ideally on your phone) at http://grainedechampion.geves.fr or using the QR code opposite.