30 Jun 20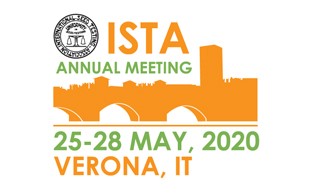 A « virtual » general meeting for ISTA this year
The ISTA Ordinary General Meeting, initially planned for May in Verona, had to adapt to a new format due to the current health crisis and the impossibility for members to attend. The meeting usually takes one full day, but this time it was replaced by a 2-hour webinar, on the 28th of May 2020. Every year this event is the occasion to present ISTA activities (Secretariat, Executive Committee and Technical Committees). It is also the opportunity to vote for new amendments for seed testing methods included for the ISTA Rules. 
The welcome message was delivered from Italy by Rita Zecchinelli, member of the Executive Committee, followed by a presentation of the Italian seed sector by Stefano Conti from Assosementi. 
The Secretary General, Andreas Wais, presented the ISTA activity report, as well as the financial and budget reports. 235 laboratories are members of ISTA, 145 of them are accredited. 47 audits were planned for 2020, but 41 were postponed. 4 workshops were carried out in 2019. A learning tool to complete ISTA certificates is available online. The secretariat is working on the implementation of electronic ISTA certificates.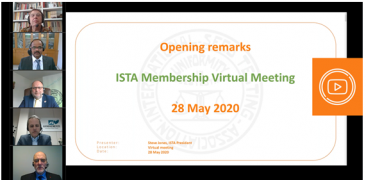 Steve Jones, President of ISTA, presented the activity of the Executive Committee, divided into a few existing working groups. A new group was created with the objective of attracting new (and young) members. The working group on Science and Technology has started with the preparation of a guide to help laboratories in their selection and use of new seed testing equipment. The projects funded by ISTA in 2019 are still in progress and new ones were submitted in 2020. 
Ernest Allen, Chair of the Rules Committee, presented the proposals of changes to the Rules. The accepted changes will come into effect from the 1st January 2021. This presentation was made after a first rules session on the 19th of May. From this date the Technical committees have worked to improve their amendment proposals. Among the voted changes are : revision of the list of Poa pratensis in table 3.A. ; possibility of reduced « Other Seed Determination » test for dust-like seeds ; withdrawal of the temperature 20 < = > 30°C for Brassica napus germination; inclusion of secondary roots to the seedling evaluation of Helianthus annuus ; harmonisation of sample sizes for seed health tests ; method for moisture determination of Carica papaya seeds; … 
Finally, the dates and places of the next two General meetings, hopefully in person: Cairo (Egypt) from 31 May to 3 June 2021 and Christchurch (New Zealand) from 4 to 10 May 2022.