Uniformity, the cornerstone of DUS testing, is a relative but necessary concept for the describing a variety.
In order to ensure fair trade, a new variety must be described; this will enable it to be identified in the field and be used to prevent errors, fraud and other misuse. This helps to ensure that the purchaser has indeed bought the variety he wishes to grow. The description is like an identity card for the variety.
This description is based on so-called "phenotypic" characteristics, i.e. corresponding to the expression of genes during plant growth, for example the shape of the fruit or seed, colour, size, plant habit, cut or corrugated leaves, ornamentation ...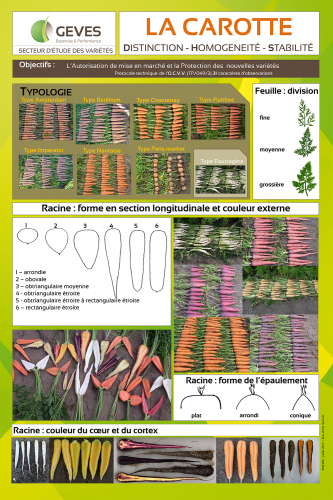 We mostly use stable characteristics as the basis for testing, i.e. characteristics whose expression is influenced as little as possible by environmental conditions, such as the shape of the organs, presence/absence of thorns, hairs, pigmentation, colour of flowers, etc. This provides a robust description which is identical regardless of the location or the year in which the variety is described. However, sometimes the species does not allow for a large number of these characteristics, so it is also possible to use slightly more fluctuating characteristics, such as plant height and earliness at flowering, which will then be noted in comparison with well-known reference varieties.
The characteristics used are as far as possible standardised internationally; it is one of UPOV's main missions to bring together the best international expertise to establish "guidelines", a kind of practical guide which details how to observe and describe a very large number of crop species.
In Europe, the harmonisation of methods is further enhanced by the requirements of the CPVO. The CPVO publishes "DUS test protocols" which the examination offices of the EU Member States must follow in order for their data sheets to be used for intellectual property purposes or for listing in the Official Catalogue.
The number of characteristics observed varies according to the species, but often fluctuates between 20 and 60 characteristics (some 90 characteristics for chrysanthemums!). It should be noted that although most of the characteristics are morphological (observable directly on the plant), biochemical type characteristics (contents of certain compounds) and pest resistance (which generally requires conducting tests with artificial contamination) are also taken into account.
A characteristic can take only 2 values (e.g. presence/absence of ornamentation), 3 or 4, or on the contrary potentially an infinity, in the case of measuring the size of an organ for example: but in the latter case, and by international convention, these measurements are converted into a note/class on a scale taking whole values from 1 to 9, e.g. 1 for very small varieties and 9 for larger ones.
The set of characteristics noted on a variety during its cycle is used to produce the variety description.